Learn the long history of our nation's oldest award given to the brave men and women wounded in the line of duty. Dating back to 1782, this award was founded by George Washington and now depicts him.
The Purple heart is one of the most recognizable medals given to our military men and women and is also our oldest award. On August 7th, 1982, General George Washington created the "Badge for Military Merit." The medal had a purple, heart shaped piece of silk, bordered by a narrow binding of silver with the word Merit stitched across the face. The badge was to be presented to soldiers for "any singularly meritorious action" and permitted the wearer to pass guards without challenge. Each honoree would also have their name inscribed in a "Book of Merit."
The new Badge of Military Merit would be awarded to three Continental Army officers. Sergeant Daniel Bissel for spying on British troops quartered in New York City, Sergeant William Brown for his gallantry at Yorktown and Sergeant Elijah Churchill for heroism on two raids against the British on Long island. These three men would be the only recipients of the new decoration, as it feel into disuse for nearly 150 years.
In 1917, the only American decoration was the Medal of Honor, compared to our European allies who had a variety of medals that could be used for valor or service. By the end of World War I, the Congress agreed to pass a legislation to create a Distinguished Service Cross and Medal. Both of these also required a high degree of combat and heroism, which caused our leaders to create another decoration for those who give their time in war.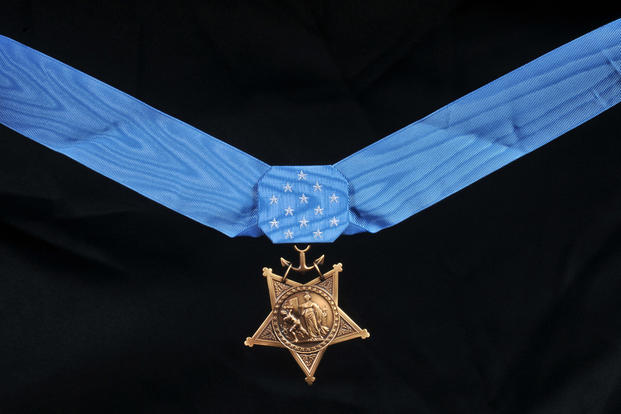 In the 1920s, a few officers began suggesting that Washington's Old Badge of Military Merit be resurrected and awarded to any soldier for exceptional meritorious service or any heroic act not performed in conflict. No action was taken until General Douglas MacArthur became the Chief of Staff in 1930. He would help revive Washington's old award on the bicentennial of his birth.
On February 22, 1932, the Army announced the orders that "the Purple Heart, established by General George Washington in 1782" would be "awarded to persons who, while serving in the Army of the United States, perform any singularly meritorious act of extraordinary fidelity or essential service." This meant that the award would be given for high-level service and any individual in the Army wounded in action. The wound would have to be serious enough for medical treatment in order to be considered.
From 1932 until World War II, 78,000 Purple Hearts were awarded to living veterans and active members. The award's baseline would change after America's entry into World War II in December 1941. The War Department recognized those who gave their lives in defense of the nation must be recognized. Therefore, on April 28, 1942, the Purple Heart officially became eligible to any members of the military service killed or who dies as a result of a would received in action or or after December 7, 1941. Five months later, another change was made, restricting the Purple Heart to military members with combat wounds only.
Changes to the recipients of the Purple heart medal would continue through the decades. First in the early 1960s, where military members wounded or killed "while serving with friendly foreign forces" or "as a result of action by a hostile foreign force" could now receive it. Then again in 1984, when "international terrorist attacks against the United States" were also eligible. Finally, the wars in Afghanistan and Iraq caused changed by the Defense Department as well. Allowing brain injuries caused by IEDs (improvised explosive devices) to warrant the reception of the medal.
As war continues to change, the guidelines for the Purple Heart Medal will as well. More than 1.5 million Americans have received the medal so far since 1932. John F. Kennedy is the only president to have received a Purple Heart due to an injury to his back while serving in the Navy during World War II. Multiple purple hearts can be received and the design itself has changed since it's origination. The new medal displays a bust of George Washington and his coat of arms. On the back, engraved are the words "For Military Merit." The Purple Heart remains a symbol of bravery and heroism for all of those awarded it.