Meet our customer Tiffany Reil, a photographer that has turned military ammo cans into beautiful urns. Learn a little bit about her, the tragedy she has faced and the process she takes to make urns a memorable keepsake in honor of loved ones.
Introduction
One of the best perks about having your own local retail business is the amazing people you have the pleasure of meeting. As a military surplus and tactical/survival gear store, we have the pleasure of serving a wide range of customers with our inventory. Our mission at Gear Up is not only to provide great customer service but also to establish longstanding relationships with our patrons. Through these interactions, we are blessed to learn about the individuals who shop with us. We thought you might enjoy hearing some of their stories as well. So, I would like to introduce you to our newest blog series, "Meet Our Customers."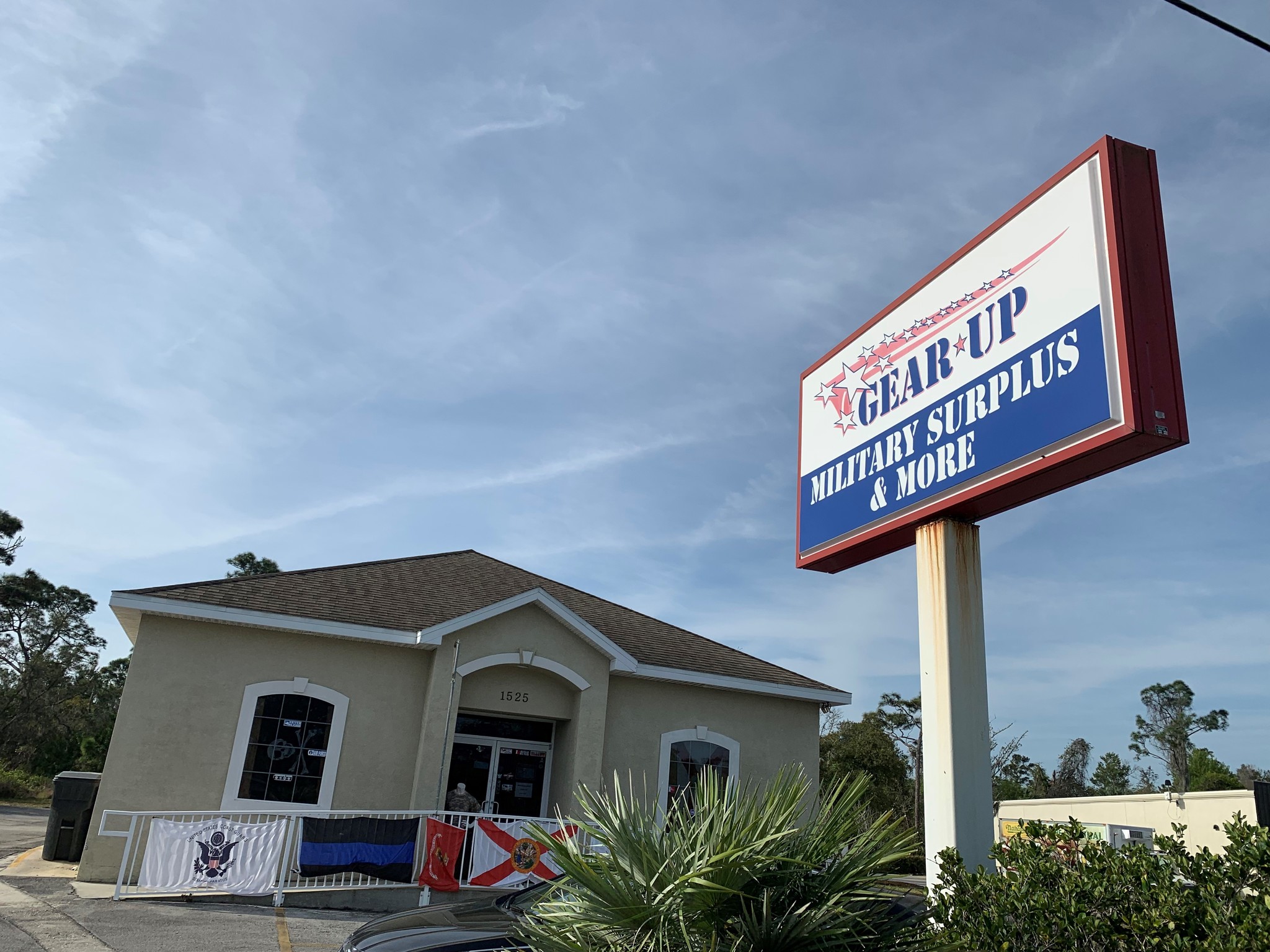 Meet Our Customer: Tiffany Reil
I met Tiffany back in February, she came in and shopped around a bit and purchased an ammo can and a pair of boots. A couple weeks later she returned to buy more ammo cans and that's when we got to talking. She explained she was using our ammo cans to make urns. After sharing pictures of the finished product, I knew we had to learn her story and process. So now I welcome you all to Meet Our Customer: Tiffany Reil.
A Little about Tiffany
Tiffany is a Florida native and like many Titusville residents, moved away, only to find herself returning. She and her late husband Christian moved to Ohio for a few years before returning to Titusville in 2018. They both obtained degrees in criminal justice and had two kids together.
Their first child was an unexpected miracle. Tiffany and Christian had given up trying to get pregnant after four years of no success. In fact, Tiffany decided that she now wanted to pursue her career path serving in our United States Navy. She spent time diligently training and was placed on delay entry for the position of gas turbine mechanic. A standard physical (required before leaving for boot camp) revealed that she was pregnant. This wrench in her plans was also an unexpected blessing despite eradication of her dream to join the United States Navy.
Military Ties
Despite not fulfilling her desire to serve she was blessed to be the proud stepdaughter of a US Marine. Tiffany's oldest son Trevor serves in the United States Army. He recently finished boot camp at 19 years old and is currently going through school as a heavy machinery mechanic. Trevor recently received a medal for expert marksman!
Although her career with the Navy did not pan out, Tiffany pursued her creative side through her special effects makeup and photography business, Immortal Reflections Facebook Page @immortalreflectionsphotography.
The Urns
Two years ago, Tiffany's mother suddenly passed away, which required her to shop for an urn. She shopped for an urn at various websites, but Tiffany never felt any of the urns portrayed her mom's personality. Nevertheless, she settled for one. Soon afterwards, she saw the same urn somewhere else and felt it was very unsentimental. Tiffany wanted a meaningful urn to be the resting place of her dear mother's remains. So, she decided to make it!
In addition to her mother, Tiffany's husband Christian suddenly passed away this past February. Her beloved husband Christian passed away from a pre-existing heart condition that no one knew about. He worked as an operations supervisor of ABF Freight and died at age 43. Tiffany honored Christian with his own custom urn.
About the Process
The process for making the urns is both a long and thorough process for Tiffany. She first purchases either a .30 caliber or .50 caliber ammo can from Gear Up. Next, she sands down the can to a fine grit, without missing the tiniest crack and crevice. Next, she blows it out, wipes it down, wet sands it, and blows it out again and finally wipes it down again. It's a 24-hour process just to let the can dry. She takes an additional 10-12 hours to paint the outside of the cans with 4 separate coats. The inside of the can remains untouched, except for a felt like material, like one may find in jewelry boxes, with which she coats the interior. The inside also contains a separator and compartments in the front for keepsakes. There is a compartment at the back for the ashes. Lastly, she orders a plaque from a local Trophy shop and places it on the front of the can.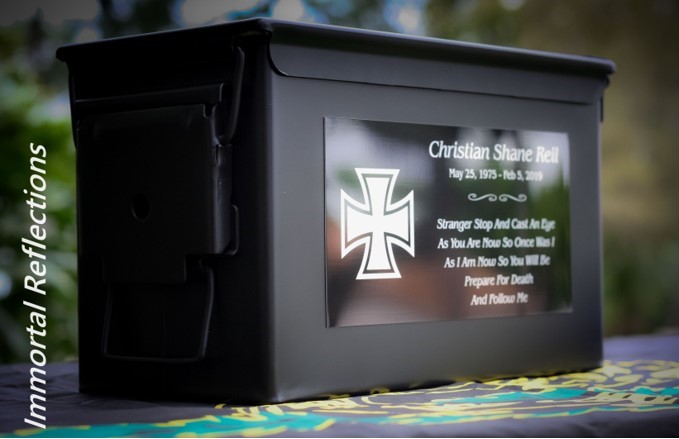 How to Order
For anyone interested in ordering an urn from Tiffany, please visit her Facebook page @immortalrelectionsphotography. The purpose is to make urns more intimate and personal for you and your loved ones. The size of the can .30 caliber or .50 caliber usually depends on the person. Color options include flat black, olive drab or the original can color with a protective coat. The interior and plaque are completely customizable. Her price for all of this is $80 which is nearly half the cost you will pay online.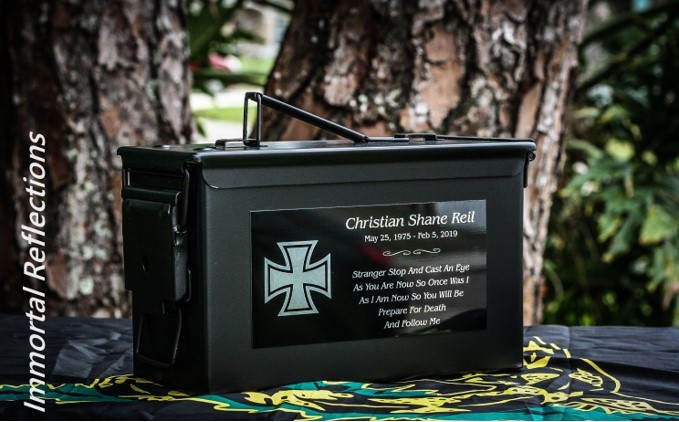 #SupportLocalBusiness
Tiffany, much like myself and many other Brevard County residents, strongly believe in supporting local business. Now back in her hometown and having her own small business, she believes it's essential as a community to support one another. She understands and knows the amount of work and time local businesses put into their work in order to succeed. I highly recommend everyone to contact Tiffany for urns as well as photography, Al's Trophy Shop for any plaques, and obviously Gear Up Surplus for all your tactical, survival and military surplus needs!