Welcome to a one-stop-shop for all your military surplus needs
It doesn't matter whether you are looking for camping gear or combat clothing; we provide it all. Since we are operating as an outdoor equipment store for quite a while now, we are thoroughly aware of our consumers' needs. 
Our product range includes all you can imagine when it comes to army surplus online available products. Some of our most highlighted products include self-defense tools, military surplus, bags and backpacks, tactical gear, survival supplies, and much more.
Why buy from Gear Up
Affordable price- We know that no one wishes to end up burning a hole in their pocket while buying military surplus products; we use our experience and expertise to provide you with the best options at the best rates. Your budget will never stand between you and your required product. 
A wide array of products- It doesn't matter which type of military gear or clothing you are looking for; you will find everything you can need at Gear Up. Since we are one of the most popular tactical stores all across the U.S., we encompass all from simple bags and backpacks to highly advanced self-defense tools.
Quality brands- We have built a stringent policy for listing brands on our website since we believe in providing only quality products to our customers. We might have a long list of brands on our website, but they all belong to the top tier in terms of quality.
Quick and safe delivery- All you need to do is choose the right outdoor gear or outdoor equipment and get it delivered to your doorstep without any issue. We have an extensive network that allows us to offer our products to every corner of the U.S. Buying military surplus online has never been so easy.
Everything in its best form
We are highly dedicated to providing the best customer support, best quality, and best price to our customers. Using this approach as our mantra is how we have climbed to the top of the table when it comes to a military surplus online store in the U.S.
Being the most trusted and reliable military surplus store, we have an extensive range of military gear and clothing available at affordable prices. We believe in building a consumer base solely based on our products' quality and the scope of our services. From quality to price, we can fulfill all your needs at Gear Up.
What customers say
Ordered online and received the next business day! Awesome service! Thank you!
I haven't been here in years. Stopped in today and was pleasantly surprised. The shops was clean and tidy, had a lot of useful equipment and the owner was amazing. He said he is the new owner and he has made huge improvements to the shop. I will definitel
Veteran friendly store and I have known the owner for over 30 years!
Went here a couple of months ago and got full combat fatigues, combat boots, etc. Wear the boots daily now and have tested the combat equipment in the rain. Very happy and can't wait to come back
I stopped into this place looking for ammo containers for geocaching. While they didn't have any that would suit my needs, they did have some interesting military/police/camo stuff to look at. The lady that owns the place was nice and we chatted for awhil
Bought all my stuff at this store... Friendly person and really great in giving advice on what gear is best for you... I am on the way back to Dubai... But I will definitely be buying all my gears from this shoo for my airsoft hobby...
I needed a web belt, which the liberal chain stores no longer carry. Had just what I needed. 4 colors.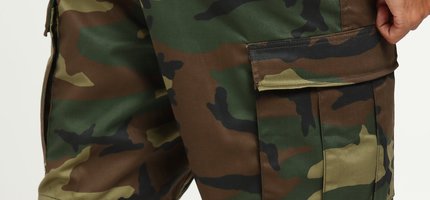 May 10, 2021
M81 Camo or Woodland Camo has become a classic camo for the military and citizens alike. But how did this camo catch wind and become a staple for every man's wardrobe. Whether you're into fashion or not, these cargo shorts are a must have for the wardrobe. Read more